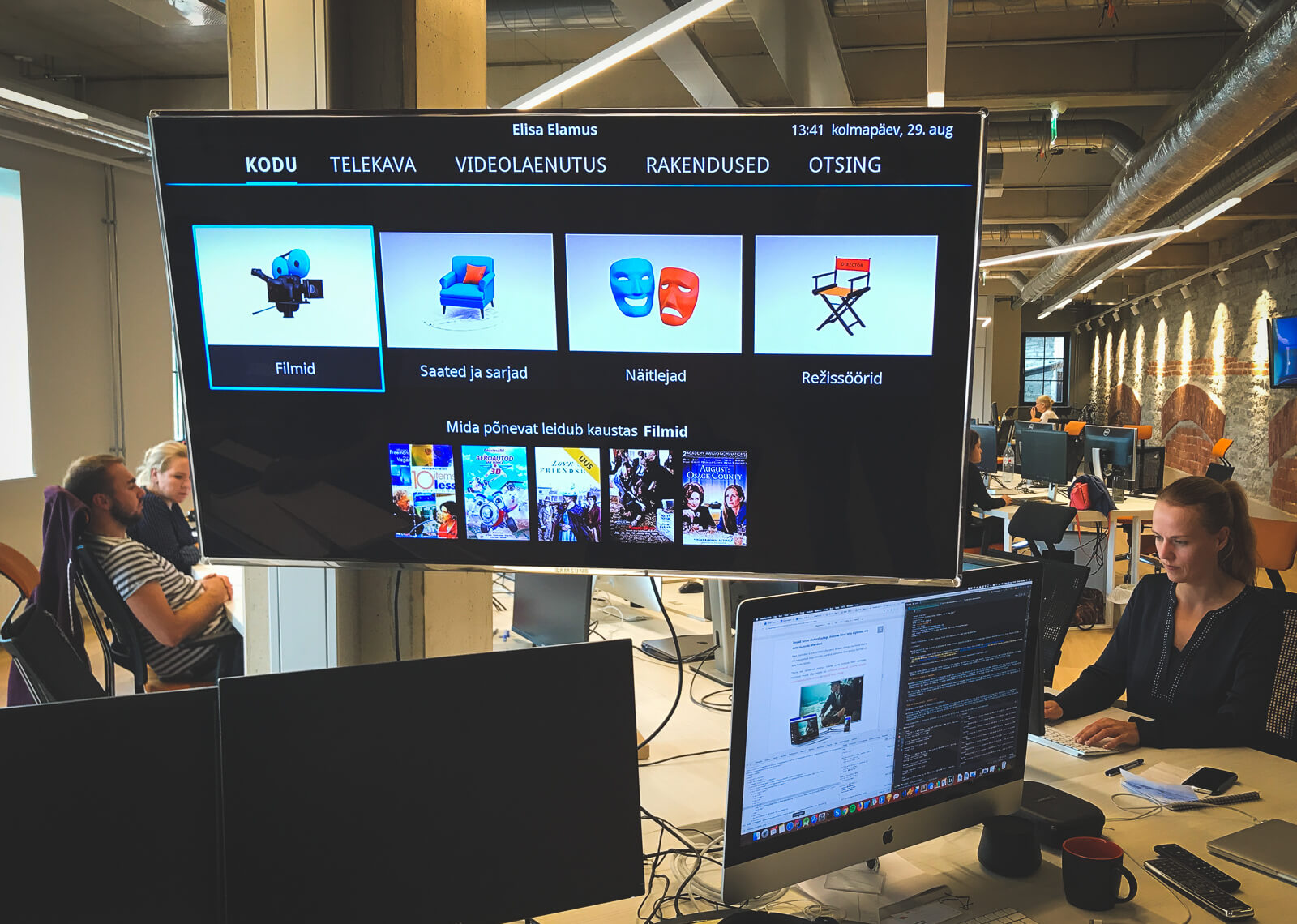 "I'd like to watch TV, but I don't have a clue what to watch"
Has this happened to you? We helped Elisa in Estonia to create a set top box that would solve this situation.
It does not come as a surprise to our customers that in addition for creating software, Codeborne helps to modernize and revamp the whole customer offering.
An excellent example is Elisa (former Starman), with whom we have revolutionized the way TV is consumed these days. Being it a new type of remote control, moving the TV to the mobile phone or moving the TV in the web browser.
Watching TV can be difficult sometimes
Quite likely everyone has experienced the situation where they would like to watch something on TV, but they just have no clue, what to watch. Opening the TV guide will not make the situation any easier - hundreds of TV channels, 30 days of TV programs accessible through Catch-Up service can mean that there are tens of thousands of programs to choose from. This seemed like an interesting challenge to solve.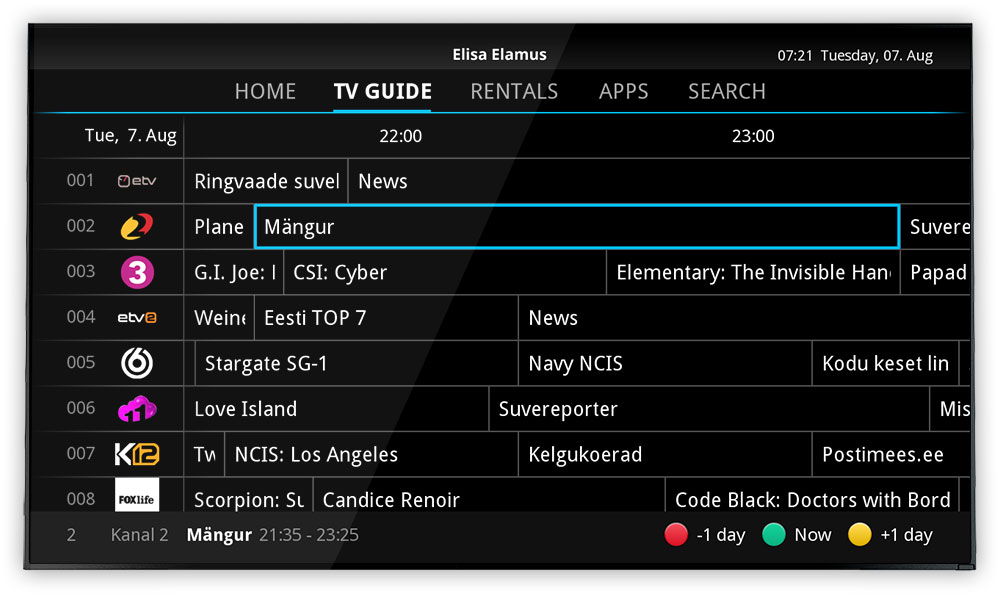 Contemporary consumer apps present content in a way where the user does not have to think too much. The next songs or movies to play that might suit the user are presented in a very convenient way and even start automatically. Once you have experienced all that, there is no wish to browse endless TV-guide. But there is a clear wish to watch a good movie or sports program and that has to be easy to access.
That was the goal that Elisa set for rearranging its TV services. The user interface was arranged to so-called Worlds. Each world contains content which is aggregated by the experienced TV viewers and algorithms from the currently aired content, from the Catch-Up service or from the video rental. There are four Worlds in total - Movie World, Kids World, Sport World and Adult World.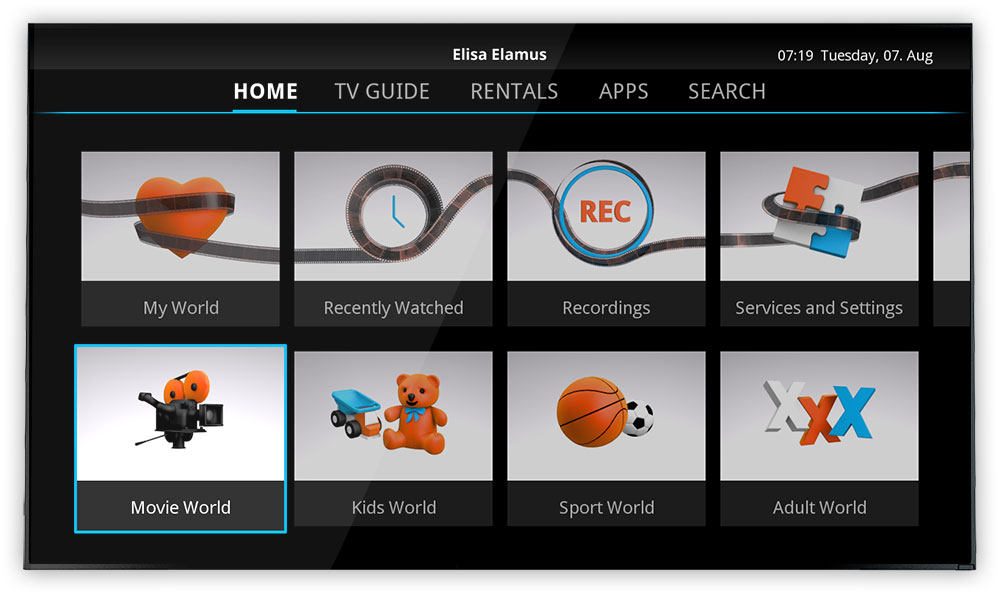 The Worlds
The most popular world is the Movie world.
The "recommendations" section is the most exiting one in there. A designated team at Elisa gathers the content in that section, being something analogous to movies to watch section in any popular weekly newspaper. Two aspects are important the Movie World. Firstly, only the best movies from recent times can be found there. Secondly, movies from a quite wide spectrum make it to the list, containing first of all quality movies to brighten the minds of viewers. This can be taken as a social mission of Elisa to educate the viewers to look further away from Hollywood blockbusters.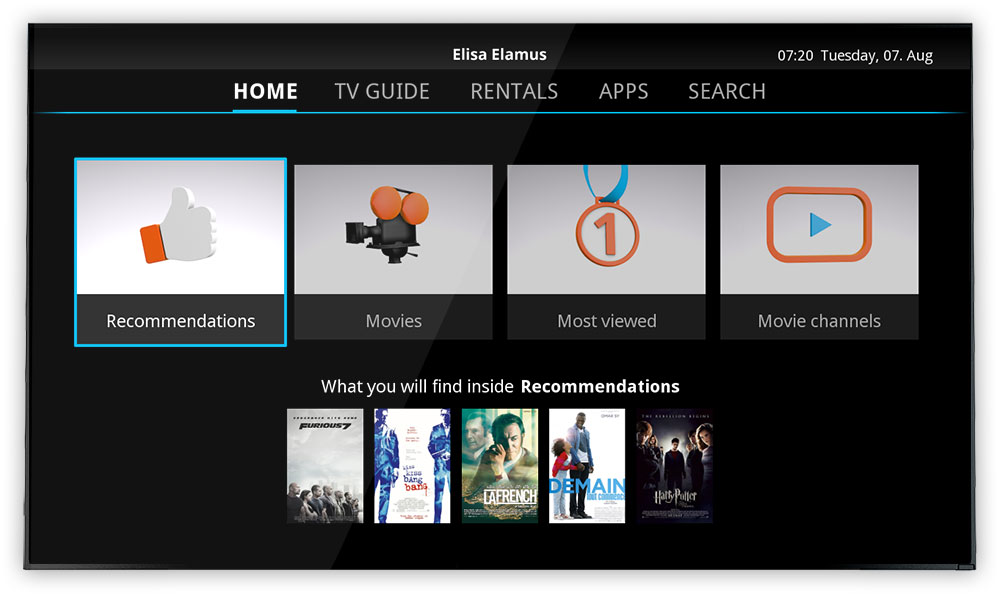 All the movies that have been running on TV and are watchable in the Catch-Up service are grouped into a handy view.
All the movie channels are displayed with current and next program. This is among others a good way for the service provider Elisa to make cross-selling to its customers as new channels can be added to the list right there in the menu on one step.
For the smaller viewers there is Kids World which stands out with its simple user interface. The focus is on visual part with well known characters from cartoons and the use of text is minimised. The result is letting even 2-3 years old to navigate their world with ease.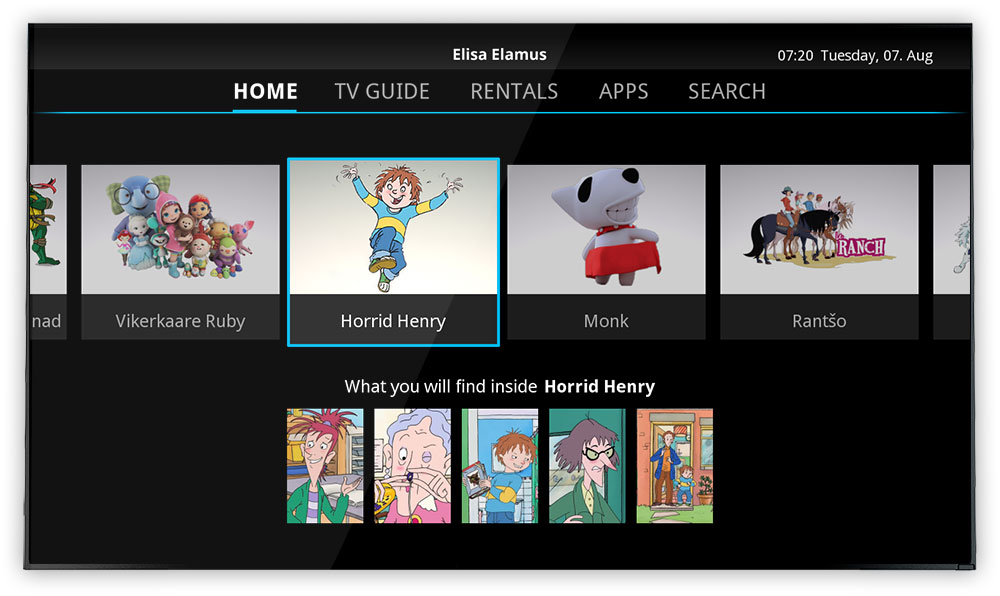 For the sports friends there is of course Sport World, which gathers all the sports channels. One feature is the overview of all live broadcasts. This is a helpful feature, especially keeping in mind the switching of broadcasting rights between channels from season to season. In addition to live broadcasts, Delfi TV sports news are also made accessible in the Sports world.
My world
People like making things their own and therefore the worlds setup for a wider audience may not satisfy everyone. Elisa's answer - create your own world!
Now everyone can add their favorite actors, directors or best serials to their "My World". The backend will then look up all possible content from the entire Elisa offering and present them in a convenient and logical way.
Silver Soomre, Head of Elisa Services and Products

My child is not so much into watching TV. The other day I went home and found him discovering the new version of our set-top-box. "Dad, you are doing a quite decent job there in the office," was his conclusion.
What we learned
A true take-away from this project for us is that to offer your customers the best service, sometimes the key is just in the presentation of already existing services. Both the video rental service and Catch-Up service have been accessible for Elisa customers for years. Since early 2018 the delivery of interesting content has been raised to the next level.
---
We at Codeborne took care of the set top box software, drafting the technological setup and due to lengthy experience with Elisa information systems, coaching of other partners in this project. For the entire team it took 4 months to complete the project.
Our recent stories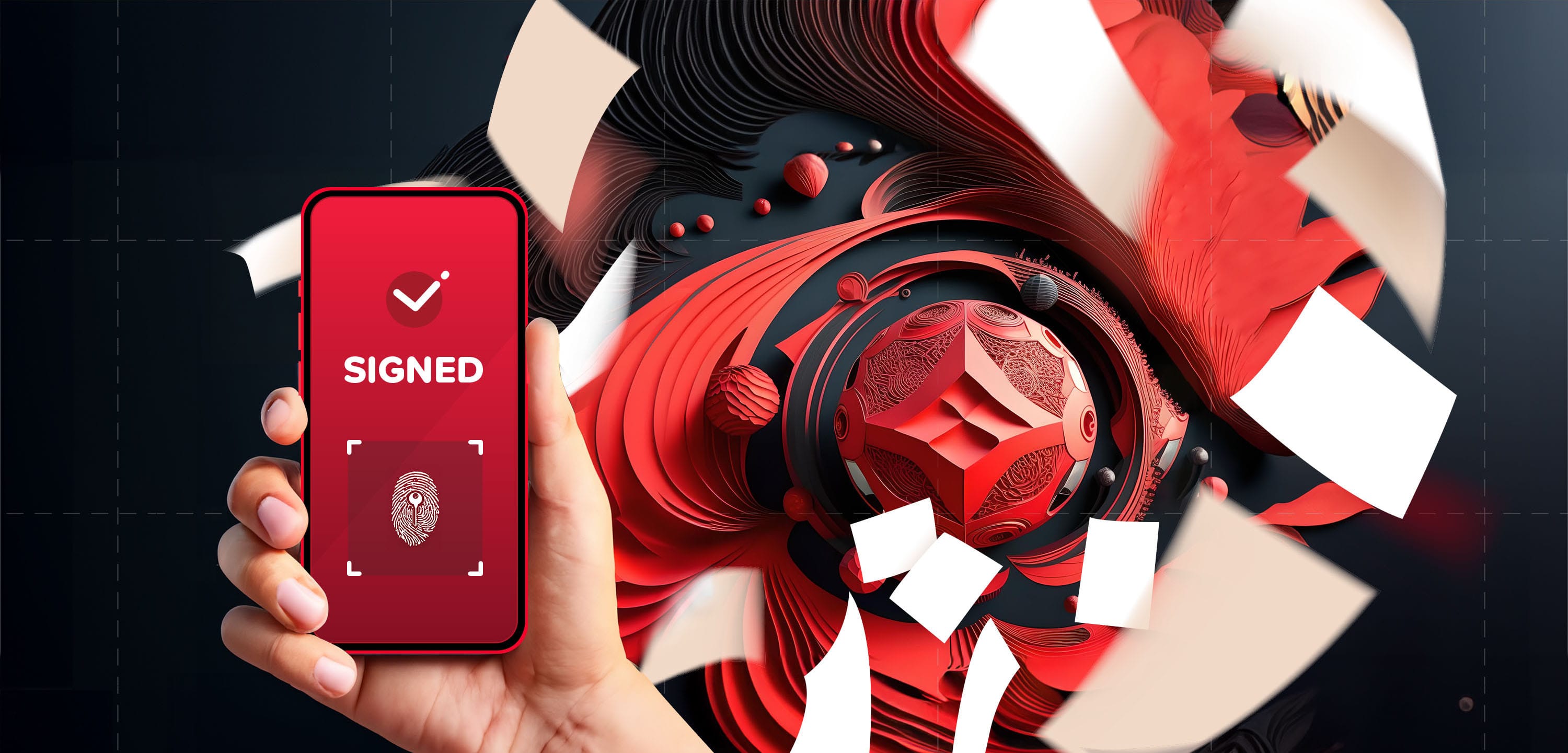 How we enabled IuteCredit customers to sign agreements using their mobile phone's biometric data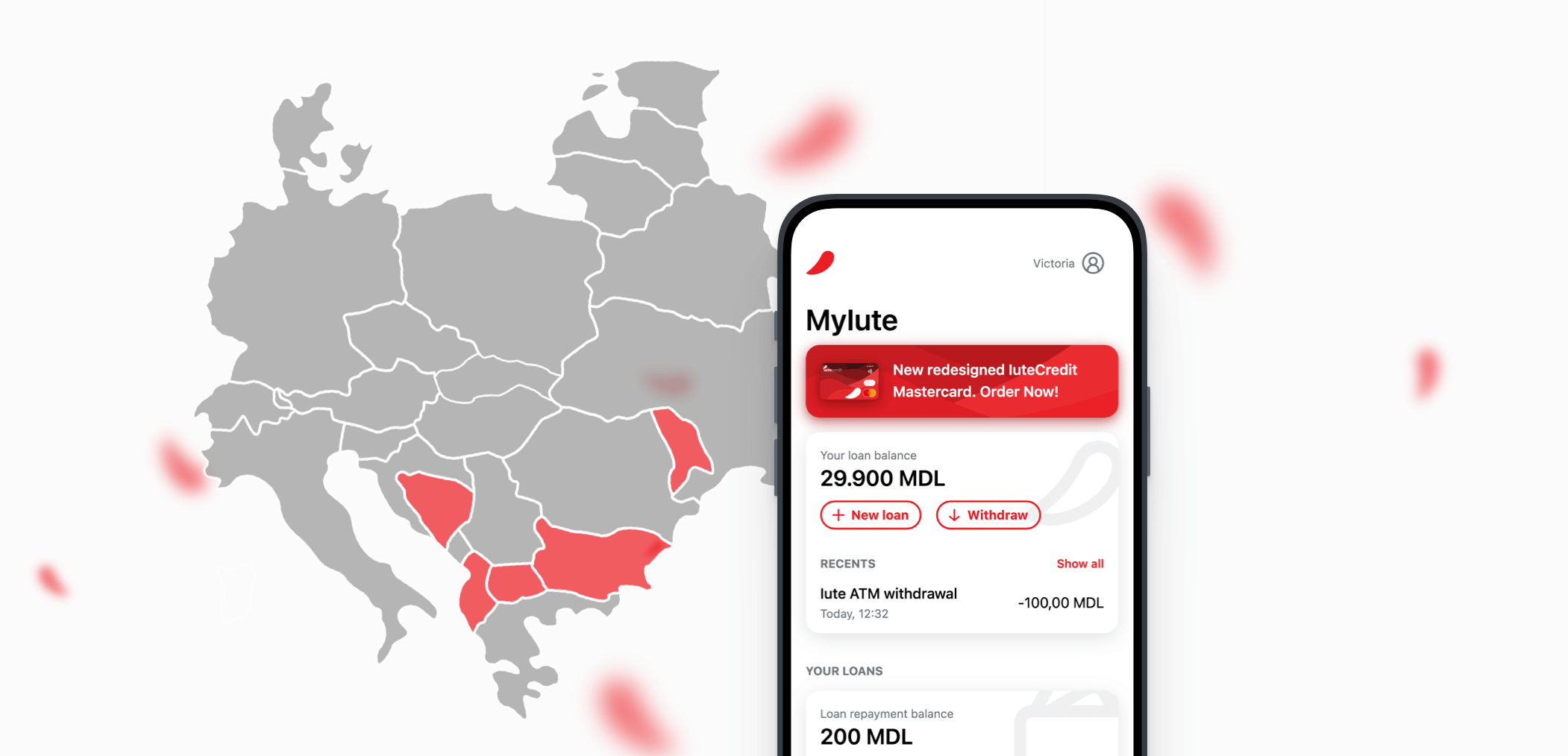 How we helped IuteCredit scale their business in 5 countries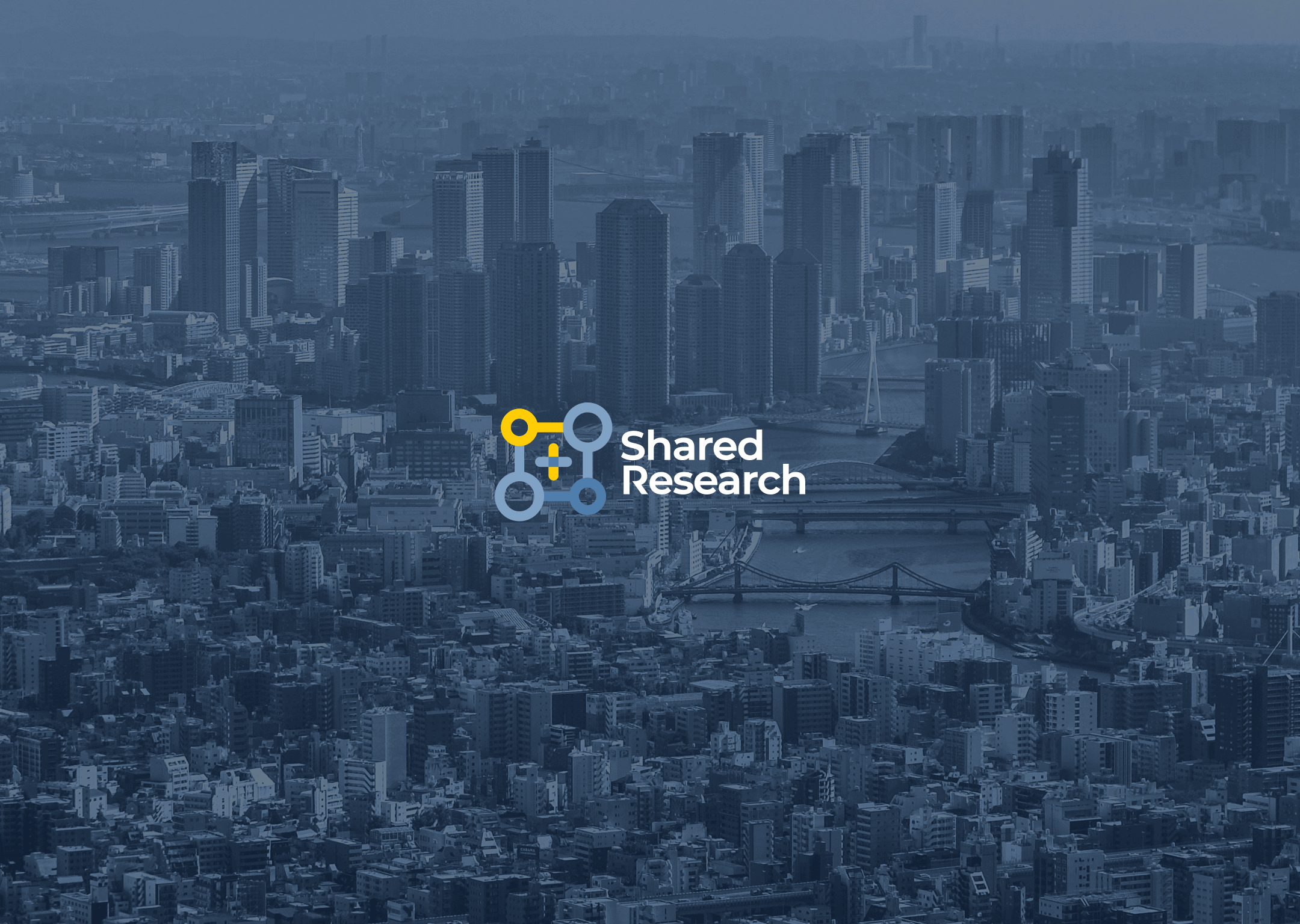 Shared Research brings Japanese stock market companies closer to the international investment community.